2020-21 Academic Calendar Available
The 2020-21 Academic Calendar is now available for download. Please note that there will be early dismissal (1:20pm) each day through September 11, 2020.
Uniform Updates for 2020-21
Uniforms are now available for purchase, and there are two important changes to LEEP Academy's uniform policy. Learn more about our uniforms or order uniforms.
Distance Learning Resources
Families, please please visit our Distance Learning resource page.
After-School Program with Roads to Success
LEEP Dual Language Academy is pleased to partner with Roads to Success to provide a daily after-school program for our students, at our school building. Students who attend the after-school program will receive homework help (in English and Spanish) and enjoy fun enrichment activities, integrated with our regular school day. Roads to Success is a long-established nonprofit organization that partners with schools across New York City; many of their team members even live in Sunset Park!

The program is available every school day from 4pm to 7pm, starting Monday, September 9. Students may be picked up at any time during this period.

The total cost of this program to LEEP Academy is more than $250 per child per month, but LEEP Academy will support our families and provide a subsidy so the first 70 families can pay only $175 per child per month (or less than $10 per day). Children who participate in the Wednesday afternoon SocceRoof activity can also participate in the after-school program with Roads to Success. (SocceRoof is charged separately.)

Online registration is now live. Your payment will be made directly to Roads to Success, which offers a variety of payment arrangements. (To pay in monthly installments, click on "Select Payment Plan" and then select "10 Installments.") Click here to register online.
Wednesday After-School Sports with SocceRoof
LEEP Dual Language Academy is pleased to partner with SocceRoof to provide an optional after-school sports program each Wednesday afternoon, from 1:20pm until 4pm, starting September 4. SocceRoof is a new athletic facility located on 53rd Street and 1st Avenue, featuring ten athletic fields made of synthetic grass.
Working in small groups with certified and experienced coaches, our students will participate in a rotating schedule of sports activities including soccer, whiffle ball, kick ball, and other sports. Coaches will pick up students from school and return them to the school by 4pm.
The program is being subsidized by LEEP Academy, with parents asked to contribute $15 per child, per week. If this represents a financial hardship, please contact info@leepschools.org to discuss financial aid.
Follow this link to PRE-REGISTER: https://forms.gle/TzXULjz7gxhTs6yMA
School Supply List: There is none! 
Many schools ask parents to bring a long list of supplies. At LEEP Academy, we don't. Please send only the following items with your child on the first day of school: 
A backpack of your choice, large enough to fit a folder


An extra uniform or set of gym clothes in a plastic bag, including pants/skirt, shirt, underwear, and socks, to be available in case of spills or potty accidents
The school will provide plenty of notebook paper, pencils, glue, tissues, glue, and so forth. That's one reason we receive public funding, and it's simple for us to purchase these items directly, in large quantities, without paying sales tax. We do this as another savings for families.
More Resources for Founding Families
If you have already accepted a seat for your child at LEEP Dual Language Academy Charter School, it's time to take the next step.
Our enrollment process is designed to be as clear and simple as possible, so that we can keep important records and provide your child a safe and successful year of learning.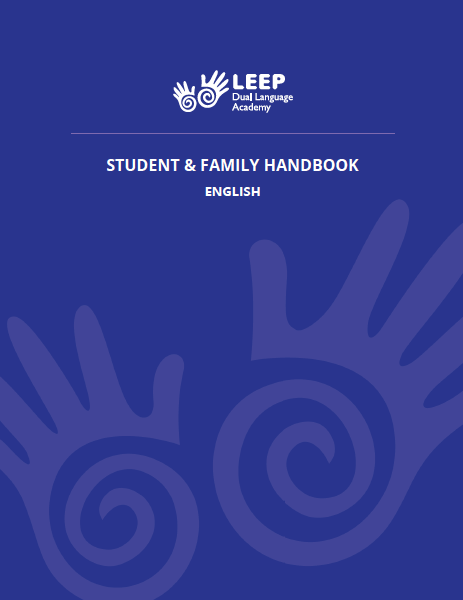 Download the LEEP Academy Student & Family Handbook

Download Enrollment Packet in English